any way: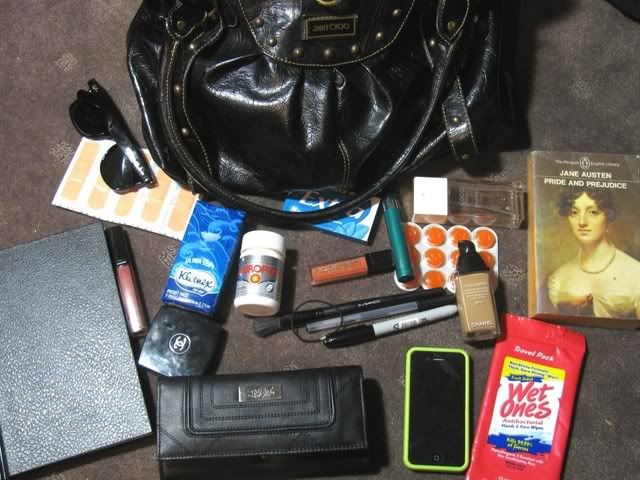 (in a clockwise-ey direction)
1- new ripcurl purse i got for christmas - genuine leather! (i didnt expect these brands to use freaking cow hide?)
2- my amazing moleskine notbook i also got for christmas - my creative outlet for this year/final year of school. this soo vital, to be able to scribble shit freely.
3- CHANEL makeup, lipgloss that leaks, compact that's empty (the mirror's amazing)
4- tissues...
5- band-aids...
6- classic Ray-Ban wayfarers. i'm actually getting sick of these, EVERY 16 year old has a pair.
7- jimmy choo bag
8- chewy. no one ever sees me without it ;)
9- nurofen
10- beautiful coral coloured napoleon lipgloss i got for FREE ayyaay
11- mascara - revlon
12- strepsls. i eat these as lollies. if im desperate.
13- chanel mademoiselle EDT 50Ml
14- chanel liquid makeup - (DW, hand-me-down. verryy unimpressed!)
15- iphone 4 32gb - i know right?! ahhh
16- wet-ones....
17- pride and predjudice - yr 12 advanced english text.